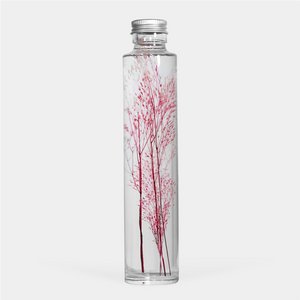 These are plants you don't have to look after for. The glass bottle allows every detail to stand out. Their delicate presence invites you to relax, to mediate, to calm down. The shadows pass trough them while they unfold all their magic with a purity and a very delicate sensuality. Never faded, never extinguished, keeping their natural colour. A lasting, original gift.
Allow your home to remain evergreen all year round with wonderfully preserved greenery from Slow Pharmacy. The Slow Pharmacy founders, Lee & Jeong, strongly believe in the power of plants and their ability to improve and enhance our well-being.
Each cutting is carefully selected and delicately placed it into its bottle by hand in Seoul.
Maker: Slow Pharmacy
Material: Real plant, glass bottle, aluminium cap
Dimensions: Contents of 200 ml, D4,5 x H12,5 cm
Origin: Seoul, South Korea
Note: Each plant is unique: the size and shape of the plant can vary.